Hide It Behind A Pegboard
The worst places for electrical panels are cramped areas. They not only demand premium wall space but are also impossible to miss. Don't stress; we have the ideal solution. This pegboard has a Scandinavian flair. It's a terrific way to add a little extra storage while also concealing an unpleasant element in spaces like a bedroom, playroom, or office.
Picture Frame Electrical Panel Cover
Charleston Crafted's founders, Morgan and Sean, found a solution to the issue of an unsightly electrical panel box that could be seen from their living room.
They utilized four tiny hinges and magnets to hang an old multi-picture poster frame over the panel, which was decorated with images of their relationships and travels.
Hide Panel With Beadboard
A gorgeous beadboard electrical panel cover was made by Jami at An Oregon Cottage for her mudroom. As you can see, the area was very sizable, but she managed to blend it in by matching the beadboard to her existing wainscoting. This project was quite inexpensive, yet it had a significant influence on the space. Goodbye, ugly!
Opt For A Wall Hanging
Challenge yourself with this wonderful DIY project from Brittni of Paper & Stitch and exercise your creative talents. Your circuit breaker box will be discreetly hidden while adding a touch of softness and texture with the bohemian wall hanging. A few inexpensive supplies and a short amount of time are all that are required to create a finished work of art. Follow Brittni's detailed, simple instructions to master the style.
Rustic Wooden Sign Electrical Panel Cover
To cover up her home's electricity panel, Cami from The Crafting Nook offers a thorough step-by-step tutorial for making a lovely rustic wooden sign.
She had an unfavorable electrical panel at her entranceway, albeit one that was smaller. And she constructed this sign that easily fit over her electricity panel using a few pine boards, stain, paint, and a small bit of work.
Use A Canvas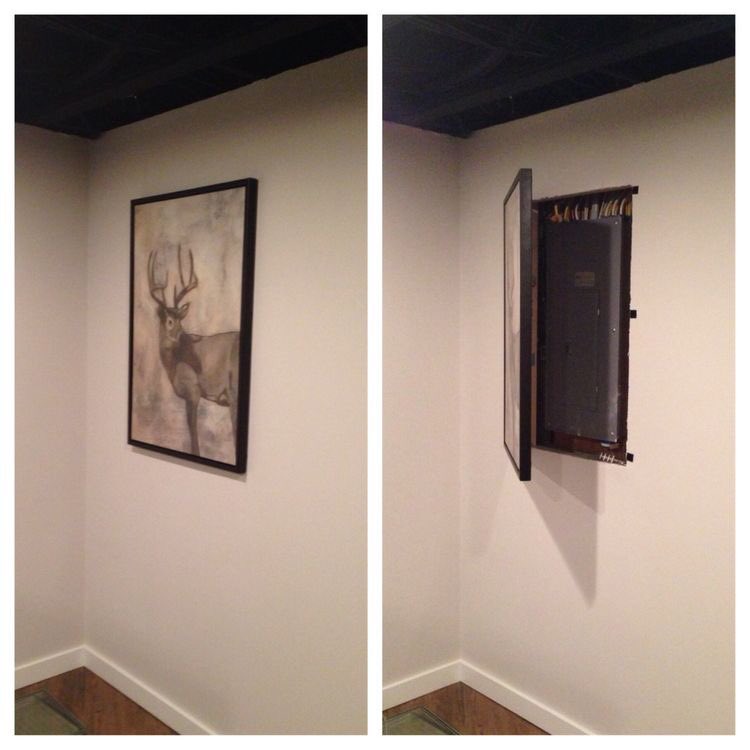 Have you ever wondered if an image could be placed on top of an electrical panel? Yes! That might be the simplest course of action at times. I would advise choosing a canvas print since they are frequently lighter and simpler to hang.
Consider A Roll Of Kraft Paper
You can't go wrong hanging a roll of kraft paper, whether you enjoy making daily to-do lists, grocery lists, affirmations, or even the menu. Jude from That Homebird Life did precisely that to quickly and cheaply conceal an electrical panel, right outside her kitchen. Of course, you could invent one yourself if you were creative. However, there are many solutions available on the market if you wish to simplify your life, including this creation from George & Willy. Additionally, children will find this notion to be enjoyable.
Dropcloth Magnet Electric Panel Cover
With the help of a clever DIY project, Cindy at DIY Beautify covered her electrical panel by painting stencils on a robust painter's drop cloth. She used tiny button magnets to affix her artwork to the electrical panel box so that it may be removed with ease when she needed to get at the electrical box.
Use Fabric
Okay, I must admit that this concept is brilliant beyond belief! By Brittany Goldwyn actually covered the electrical panel with fabric. It blends in with the wall so beautifully that you can hardly know it is there. She used furring strips to make a frame, which she then clothed. Such ease!
Of course, you can use the same idea to pick a cute piece of cloth that complements your decor if you don't have a black wall to blend into. This will make it appear more like a piece of wall art.
Conceal An Electrical Panel With A DIY Shelving Unit
A mirror, storage, and wall hooks are all included in Caroline Burke's shelf unit, a Hunker contributor. But in addition to its many uses, this do-it-yourself project also serves as a chic solution to conceal an electrical panel. This would be ideal in a hallway or close to a garage so that you can check yourself one final time as you gather your keys and reusable bag to leave.
Vintage Window
One of my favorite DIY projects for ancient buildings with a retro classic aesthetic is the DIY electric panel cover by Mariel at Or So She Says.
She utilized an antique window, glass spray paint, and period hardware hinges to transform the glass into a mirror that she attached over the electrical panel.
Hide With Doors
Just add two doors that are simple to open, and this is a really sweet idea. When it is shut, it merely seems to be wall art. I have previously discovered a ton of adorable vintage doors, but I never once considered this possibility. The doors would look fantastic on their own if you find this style to be a little too crowded. To open and close, all you need are a few secret hinges.
Hide Your Electrical Panel Behind A Cabinet Door
If you're feeling particularly fancy, Chris and Melissa from Renovation Semi-Pros suggest covering your electrical panel with a cabinet door that matches the rest of your kitchen. If the unattractive feature is anywhere near existing cabinetry, such in your kitchen or laundry area, this is an excellent option. Although it might be a little more expensive, the smooth finish is definitely worth the extra money.
Separate Room Electrical Panel Cover
Tarah from Grandma's House DIY built an entire tiny room to hide larger panels or panels grouped together. She used leftover lumber from the house remodeling to construct the complete structure.
How To Hide Electrical Panel Outside
Check out this concept by designer imprisoned if you want to conceal an electrical panel outside! They created their own exterior utility box covers. I adore how they upgraded the design by including the home numbers.
Invest In A Standing Mirror
There is no simpler (or more fashionable, for that matter) way to conceal your breaker box than with a tilting mirror. We adore the contemporary style that Studio McGee chose for this space in green. Invest in a sizable design that not only hides the unsightly feature but also fits in with the aesthetic of your house if you want to reproduce the look. Mirrors may be readily relocated if and when you require quick and easy access to the fuse box. Mirrors reflect light, giving the appearance of additional room.
Pegboard Electrical Panel Cover
The majority of homeowners could always use more storage space in their homes, particularly in the laundry room and other utility rooms. In addition to hiding the eyesore, Tania from Little Vintage Cottage used fabric-covered pegboard to make storage space for cleaning supplies.
Opt For A Chalkboard
If you're going to use a chalkboard to post useful household reminders, you might as well put it over the circuit breaker panel or some other prominent location. And if you don't already have one, let us recommend this sweet DIY project created by Hunker contributors Alice & Lois. No matter where you use it, it's a winning strategy.
Canvas Electrical Panel Cover
Jenn at Loveland Lodge covered the electrical panel in her laundry room as part of the One Room Challenge project with just a 2-inch thick canvas and a scrap of fabric left over from creating pillows.
Allison and Jay Goble of Project Goble stretched fabric over a do-it-yourself wood frame if you don't have access to a canvas or have an odd-sized electrical panel.
Showcase Woven Yarn Art
Hang a braided yarn wall hanging for one more simple method to conceal a breaker box or an electrical panel. When it came to remodeling her laundry room, Erin Hiemstra of Apartment 34 decided to go this path, and the outcome is just stunning. The electrical panel concealed underneath beautiful piece of artwork by Meghan Shimek would never have occurred to you. The sculpture also infuses a functional area that is frequently overlooked with a lot of texture, visual intrigue, and tenderness.